Beef in black been sauce with rice
Quick and easy

Serves 2 persons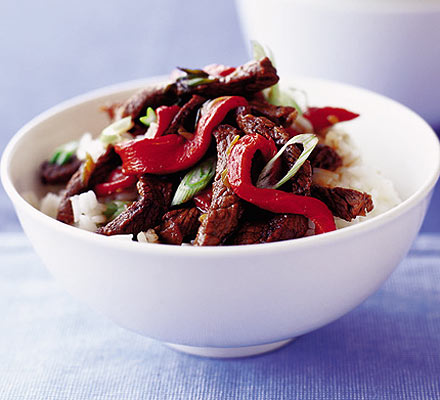 Ingredients
400g Stir fry beef
200g frozen peppers (defrosted)
2 spring onions (chopped)
Spices and Sauces
1 jar black bean sauce
1/4 tsp chilli
1/4 tsp garlic
1 tsp ginger
2 tbsp groundnut oil
Rice
Tilda 2 minute rice 250g
(or do it the traditional way if you have time)
Cooking
1. Put the groundnut oil in the wok of pan

2. Pour in the garlic and ginger and fry till garlic is starting to go brown

3. Pour in beef, peppers and spring onion

4. Keep turning ingredients to stop burning

5. Add the black bean sauce but only enough to coat the other ingredients and also add the chilli at this point

6. Only cook the beef a few minutes to keep it tender and serve on a bed of rice.